On Thursday I attended Christian Payne's Storymaking workshop at Lighthouse in Brighton. The workshop was part of the free series of events being run by the Open University throughout the UK. I was the first to arrive, which meant not only did I get to nab all the good biscuits (bourbons) but was able to chat a bit more to Christian, and co-organiser Jane Matthews about the idea I have of communicating my work by telling stories and also wanting to make better presentations by understanding structure a bit better. The first half of the workshop consisted of a look into Christian's history of photojournalism and essentially how he has been able to stay ahead of mainstream media by realising quickly that telling stories and getting information out to the world is not about how many megapixels you're pushing or what software you use to cut your movies.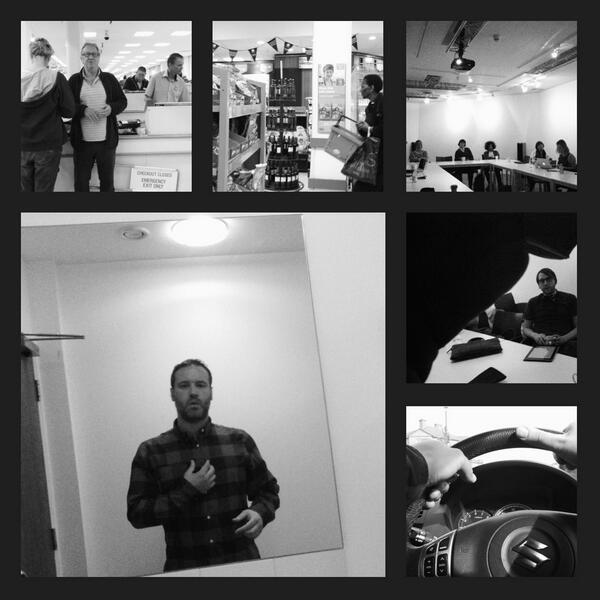 He took us through his digital toolkit from backup battery chargers to apps and his primary workflow before setting us the assignment of heading out into the streets and creating a story with just the  phone in your pocket. tagging everything with #ou_msw.
http://instagram.com/p/m5BxMBgWUS
With everyone back and their content pushed up to various networks using the hashtag, we were then shown how to use Storify to pull content in from everywhere and move it around to create a pleasing story. Here's the result of the group curated Storify. I really enjoyed the seminar, that's a closer description I wouldn't call it a workshop, although I would say that it lacked a focus. I took away from it a number of things, all of which I would like to think I am going to be able to apply to my digital output generally.
Quality doesn't mean polish
The latest iPhone, new Android handsets and of course the Nokia Lumia series are producing better and better quality cameras. We're at a point now where phones really are better than the average point and shoot camera. It seems like only the likes of David Bailey and Greg Du Toit need the latest Nikon or Canon DSLR. Even warzones are starting to become more reliant on the agility and discreteness of camera phones.
Being lean means quicker storytelling
This has to be the primary lesson from this workshop. What Christian has shown is that the landscape of journalism and storytelling is rapidly changing and bloggers will continue to surpass mass media because of their ability to not be bogged down with cumbersome workflows and a misguided necessity of producing broadcast quality material (whatever that means now). I really hope that the Open University can continue to provide free access to education of all types with events such as this. I'd like to work with someone at OU to do a similar workshop for user experience, and specific areas of web design, so if you know anyone who can make that happen, send them my way.